Argentine Tango for adult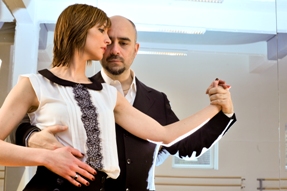 Classes taught and managed by Daniel & Nathalie
Nathalie has been teaching Argentine tango since 1996 at all levels, in groups or privately. She is also often asked to choreograph dances for weddings.
Daniel has been dancing since the age of 6, having done street dance and modern before focusing on the Argentine tango with his partner Nathalie.
Classes start from September 13, 2023
TIMETABLE 2023 - 2024
All Argentine Tango courses take place in our school Rue Vanderkindere, 471 (Uccle)
Level
Hour/week
Schedule
Room
Argentine tango
intermediate
1 class/week
Wednesday 19:30
1st Floor
Argentine tango
beginner
1 class/week
Thursday 19:30
Ground Floor
Argentine tango
intermediate/advanced
1 class/week
Thursday 20:30
Ground Floor
Classes start from September 13, 2023
The price is based on a programme. One programme lasts approximately one term (3 monthes):

The fee for the programme is €150/person (covering for example classes from mid-September to mid-December)
for students taking 2 classes per week, the price of the programme is €225/person.
It is possible to pay per class:

15 €/pers
Trial classes are available free of charge
Other fees:

Practica: free courses (reserved for students in the quarter)
For registrations, please kindly complete the form below. This will allow the teacher to better identify you and welcome you at the same time. Moreover, it's also an opportunity to ask any questions that you may have.
INITIATION COURSES ON SUNDAY, SEPTEMBER 10, 2023
At the beginning and end of the year, initiation courses are organized to allow you to enjoy the course and type of dance.
It is often on this occasion that dance partners can meet and decide to continue the course together during the year.
To participate in this training course, you are strongly advised to register to allow us to organize your sessions at best.
This training course is free of charge and takes place from 2:00 to 3:00 p.m. in the VDK room (Rue Vanderkindere, 471, 1180 UCCLE) (+/- 100m from Bascule Shopping)
Daniel & Nathalie manage their classes independently, if you have any questions, please use the general website contact form or contact the teachers directly on the following contact details:
E-mail : info@studio-dansharmonie.be