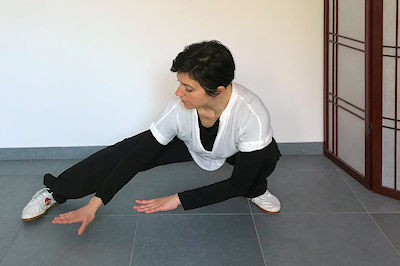 Classes taught and managed by Elena
Qi gong ("Qi work") is a health discipline of ancient origin based on the principles of Chinese medicine: slow, regular movements in harmony with the breath facilitate the flow of energy (Qi) along the body's meridians and help maintain, or regain, good health.
A true meditation in movement, Qi Gong strengthens the body while increasing its flexibility, with an effect on both physical health and mental and emotional well-being.
Elena is a qualified qi gong teacher at Life Care Centre (degree recognised by Beijing Sports University) and offers courses in Daoyin Yangsheng Gong, Health Qigong and Nei Yang Gong.
TIMETABLE 2022 - 2023
Level
Time
Schedule
Site
Qi Gong
beginners
1 hour/week
Friday 18:30
Bascule room
From FR 16/09/22
The price varies according to the formula chosen.

Per card:

Card for 10 lessons: 120€
Card for 20 lessons: 180€



Per annual subscription (school year):

1 class/week: 220€
2 classes/week: €380 (see qienergies.be for other class schedules)
The trial class is free
Practical tips
Wear soft, comfortable clothing and clean, soft trainers (or non-slip socks)
As for registrations, we kindly ask you to fill in the form below. This allows the teacher to better identify you and welcome you at the same time. In addition, it is an opportunity to ask him any questions you may have.
For the registration process, please fill in the form below.
YEAR 2022-2023
School holidays (the dates detailed are included in the holidays)
Autumn holidays: from SU 23/10 to SU 06/11/2022
Veteran's Day: FR 11/11/2022
Christmas holidays: from SA 24/12/2021 to SU 08/01/2023
Carnival holidays: from SU 19/02 to SU 05/03/2023
Easter Monday: MO 10/04/2023
Spring holidays: from SU 30/04 to SU 14/05/2023
Ascension: TH 18/05/2023
Whitsun weekend: from SA 27/05 to MO 29/05/2023
Summer holidays: from SA 01/07 to SU 03/09/2023
Academic year 2023-2024: starting from MO 03/09/2023
Elena running her course independently, if you have any questions, you can use the general contact form on the site or contact the teachers directly with the following details:
E-mail: qienergies[at]gmail.com