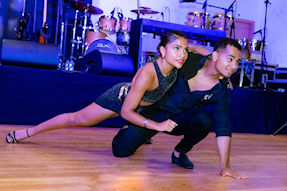 Class given and managed by Sarah & Frans
In 2008, Frans & Sarah Amaro joined the "Kizombalove Academy" and rapidly developed their skills as dancers and teachers. It is indeed in this school, based in Belgium, that Frans & Sarah followed a professional training for teachers of Kizomba / Semba known under the name of "José N'dongala Kizombalove Methodology".
They teach together the first class (19:30 - 20:30) for couple dance and Sarah continue the second class for only ladies.
Recognized for their pedagogy, professionalism but also the friendly and relaxed atmosphere of their classes, Frans and Sarah share their experiences all over the world.
TIMETABLE 2023 - 2024
| Course | Level | Hour/week | Schedule | Room |
| --- | --- | --- | --- | --- |
| Kizomba | Beginner   | 1 hour/week | Monday at 19:30 | VDK |
|  Kizomba | Intermediate (1 year exp.) | 1 hour/week | Monday at 20:45 | VDK |
The price is based on a programme. One programme lasts approximately one term (3 months):
The fee for the programme is €100/person (covering for example classes from mid-September to mid-December)
It is possible to pay per class: 15€/person
For registrations, please kindly complete the form below. This will allow the teacher to better identify you and welcome you at the same time. Moreover, it's also an opportunity to ask any questions that you may have.
Sarah & Frans manage the classes independently; if you have any questions, please use the general website contact form or contact the teachers directly on the following contact details:
E-mail : soenen.ovb[at]gmail.com